Wintergreen Couch Turf (Cynodon dactylon cv. Wintergreen) The Best All-Round Budget Friendly Lawn
Looking for cheaper turf supplies from experienced turf growers?
Wintergreen Couch turf is extremely hardy and thrives in full sun and is known for its extremely quick recovery rate due to the Wintergreen's very deep root system, making it ideal for those high traffic areas.
Wintergreen Couch sod has a soft fine leaf, dense growth and lush green colour, making this grass an excellent and affordable lawn choice.
Wintergreen Couch sod is highly drought tolerant and will go dormant in prolonged dry periods and in winter but will remain a vibrant green colour throughout the cooler seasons.
As a leading sod supplier, why not ask for a Wintergreen turf price quote now?
Key Features
Full sun to 30% shade
Exceptionally hard wearing turf and self-repairing
Drought resistant and tolerant
Excellent turf choice for high traffic areas
Fine soft leaf sod
Medium salt tolerance
Suits most soil types
Great colour retention throughout winter
Dormant in winter - Less watering and mowing
15-25mm recommended mowing height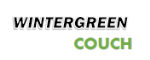 $4.99/m2