About Us
The Twist Turf Supplier Story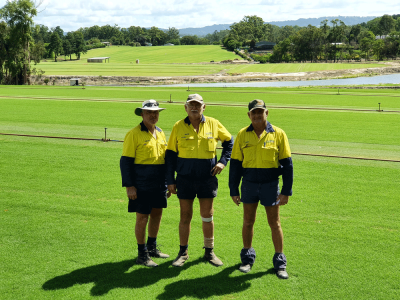 The name Twist Brothers Turf isn't just a business name, it's a story that started over 48 years ago in the small Queensland town of Chevallum.
Three brothers Rick, Jeff and David alongside their families decided to prepare their farm to grow strawberries; little did they know this would be a successful business for the next 46 years.
The three brothers came to Chevallum in 1972 and started farming strawberries up until 2018. Throughout the years the Twist Brothers employed up to 250 staff each season and at times grew up to 1.4 million strawberries plants and their strawberry punnets were sold all over Australia.
All throughout their careers the Twist Brothers have played a big part in servicing the community. The brothers provided strawberries for well known Chevallum Strawberry Festival for 31 years and still allow access for parents to park their cars on their property when dropping and collecting their children from school. An ever-lasting relationship the brothers will always share with the school.
The hardest part for the brothers to leave strawberries was to not see the hundreds of Chevallum Primary School children come over to the farm to pick strawberries for their annual Strawberry Festival.
As burgeouning turf suppliers, in 2018 the Twist Brothers sowed their first paddocks of turf lawn. Over the next two years the lawn supplier brothers ploughed in their last patches of strawberries and slowly filled their farm with lush green rolling meadows of turf supplies.
Wintergreen Couch was their first variety of lawn to grow followed by Buffalo Sapphire and the Native Zoysia Nara sod. Since then the Twist Brothers turf company has been building a great rapport with the general public and business sectors, gaining a strong reputation for having high quality, luscious green turf for sale.
The knowledgeable lawn supplier sales team are always happy to assist in making the most informed choice of grass turf variety for the customer's needs.
The Team at Twist Brothers turf company can lay your new turf for you and are happy to provide recommendations and information about soil preparation, DIY installation and ongoing turf lawn maintenance. Twist Brothers lawn suppliers always aim to cut and deliver on the same day to ensure your turf supplies are always fresh.
Contact the Twist Turf supplier's SE QLD and Wide Bay Burnett team for enquire about sod prices, to buy turf, to organise turf installation, or to ask any other questions you may have.